Above Ground Swimming Pools in Wisconsin
Affordable Backyard Swimming Pools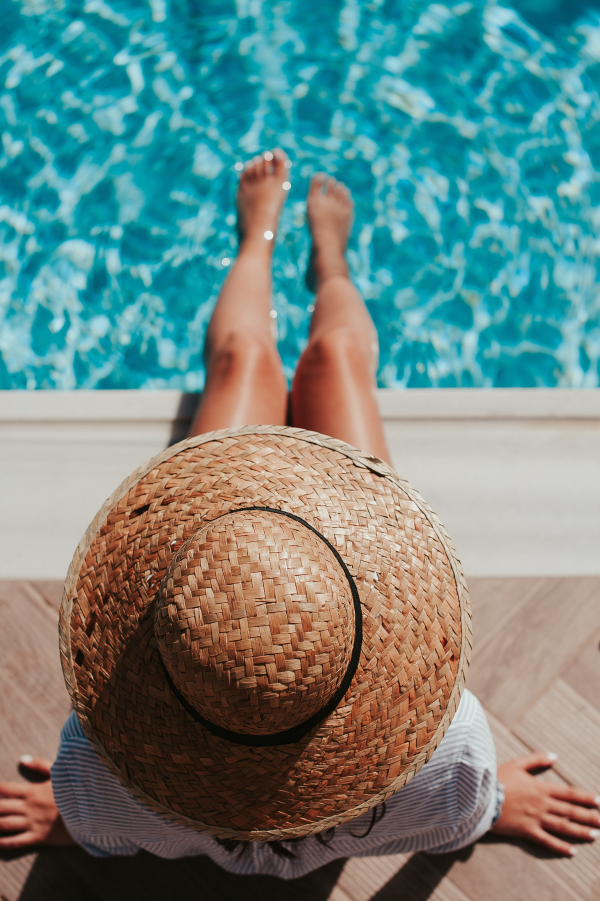 Above-ground pools are a great alternative to the permanence of custom inground pools, and considerably more affordable. If you want a less costly way to stay cool this summer in Milwaukee, Waukesha, Occonomowoc, let the #1 custom backyard swimming pool company help you.
Visit our services page for more pricing information

Outdoor Above Ground Swimming Pool
Above ground swimming pools are available isn either oval or round shapes. Choose the shape and size that best fits your yard and your budget. Poolside provides round and oval pools with either 48"or 52" sidewalls, depending on your preference. If you have young children, we'd recommend the shallower sidewalls. See what's possible with our above ground pools and installation.
Oval Above Ground Swimming Pools
Available in widths ranging from 15' x 30' to 18' x 33'.
These pools are only restricted by the space you have available in your yard
Design provides space for laps
Require outer external braces to support pool walls

Above Ground Circular Swimming Pools
Available in diameters from 12' to 33'
Does not require braces to support pool walls

Above Ground Pool Size Chart
We carry a variety of pool sizes in round and oval shapes. Below are sizes we sell at our store:
| | |
| --- | --- |
| Round Sizes | Oval Sizes |
| 18-foot | 15-foot x 30-foot |
| 21-foot | 18-foot x 33-foot |
| 24-foot | -- |
| 27-foot | -- |
| 30-foot | -- |
| 33-foot | -- |
Contact us to start designing your backyard pool today!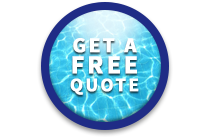 Above Ground Pools FAQ
How to open/close an above ground pool
How to maintain an above ground pool
How to install an above ground pool
Where should I put my above ground swimming pool?
Do yards need to be level to install a pool?
What size and shape pool should I get?
Should I get an above ground pool deck?
What if I can't afford certain expenses for my new pool?
Does my pool need additional features?
Professional Above-Ground Swimming Pool Opening/Closing Services
Let Us Save You The Time And Hassle!
Our pool professionals can open your pool for you. Rest easy knowing your above-ground pool and equipment are set up correctly and ready for you to enjoy your pool for the season.
Complete Above-Ground Pool Opening for $299 Includes: Cover is pumped off, removed and folded. Necessary fittings and hoses are installed. All equipment in good condition will be reconnected.
NOTE: We are unable to test connections and equipment at the time of the pool opening due to low water levels. Once the pool is filled, fittings may require tightening by the customer. *Vacuuming can be added for an extra cost once the water level has been raised to the proper level.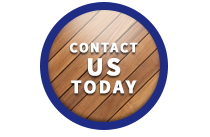 Above Ground Swimming Pool Repair and Maintenance Service
Wisconsin winters ravage more than just our heating bills. Freezing temperatures result in cracks, buckled liners and sealant issues for above ground pools in Wisconsin. Plastic or aluminum walls can warp, and when ice builds up it weighs down liners and stresses other parts.
Poolside gives our community every opportunity to enjoy the few short months of warm weather by fixing any issue your above ground pool might have after a harsh winter. Our experts will repair your pool and we also offer weekly and bi-weekly pool maintenance.
Poolside repair experts have seen it all—and fixed it all. Our repair services are the best, and we take the hassle out of getting your pool ready by offering pool opening and closing services.
Above Ground Pool Repair Services Provided by Poolside
Above Ground Pool Water Testing
Keep your family and friends safe by taking advantage of Poolside's free water testing. If water treatment is neglected, bacteria will find a home in your pool. This can lead to infestations or other serious health problems. On the other hand, using too many chemicals is equally dangerous. Why risk it? Especially when we offer a free water analysis.
Call today for a free quote
on above ground pool repair and maintenance
from Poolside.
Getting an Above Ground Swimming Pool Installed
If you're looking to add any kind of pool or hot tub spa to your property, there are permits you will have to get before anything can be built or installed. Different cities and towns have varying requirements. Poolside will point you in the right direction and assist in any way we can to help you get the needed permits and fulfill safety regulations. After permission has been granted, the installation can begin.
Poolside will typically receive your swimming pool from our supplier within a few days of you placing your order. While Poolside does not install above ground pools, we will recommend a reliable installer in our area. The earlier in the year you get in touch with an installer, the quicker you will be able to enjoy your new pool.
Above Ground Pool Steps for Installation
After leveling the area where the pool will sit, the pool walls are put up and the liner is set into place.
Water will then be delivered to your house by a local water delivery company. You may choose to have the pool completely filled by water trucks, or you can top off the remainder of your pool with water from your hose.
No matter which route you take, Poolside recommends bringing us a water sample for a free water analysis. We will advise you on how to get your pool water safe and ready for use. Once you have treated the water, your new above ground swimming pool will be ready to use.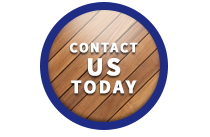 Questions to Ask When Buying an Above Ground Swimming Pool
Tips for Finding the Right Pool for Your Wisconsin Home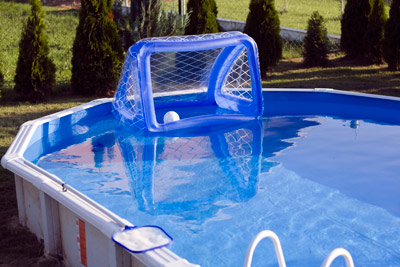 Before buying an above ground swimming pool, ask yourself the following questions to figure out if it's the right decision:
Q: Where should I put my above ground swimming pool?
The placement of your above ground swimming pool is incredibly important. For safety, the pool should be two or more feet away from any trees or buildings on your property. This can narrow down the possible locations for your new pool. If you are unsure of the best placement, we'll be happy to help you determine the ideal spot.
Since above ground pools are placed directly on the ground, the area must be clear of all debris to avoid damaging the bottom of the pool. The grass beneath a pool will stop growing, so potential movement of the pool in the future will result in a bare patch.
Q: Does my yard need to be level?
Since the pool will be placed on the ground, your yard has to be as level as possible. If placed on an uneven surface, the structural integrity of the pool can fail. This can cause anything from leaks to the pool collapsing.
If your yard consists of sand or soft soil, you will have to take extra precautions to prevent the pool from settling at an angle. Poolside's team will help you through the process to prevent your pool from sinking or tilting.
Q: What size and shape pool should I get?
One of the benefits of above ground pools is the variety of sizes. Primarily available in oval or round shapes, the pools can have varying widths to create more room for swimming and playing. Poolside's collection ranges from 15'x30' to 18'x33', which is large enough to comfortably swim laps.
Above ground pools do not have shallow or deep ends the way in-ground pools do. Consider a shallower pool if you have small children.
Q: How much of the year can I use my pool?
One of the downsides of having a pool in Wisconsin is being unable to use it when the weather turns cold. In a good year, you can use an above ground pool from late May through mid-October.
Q: Should I get an above ground pool deck?
Many above ground pool owners add custom pool decks to their yard. This "poolscaping" makes getting in and out of the pool much easier and also hides the sides of the pool from view. While a deck will improve the appearance of your yard, it will most likely leave you unable to move your pool in the future without having to dismantle the deck as well.
Q: What if I can't afford certain expenses for my new pool?
Make sure you know what you can afford before starting your pool project. Leveling out the ground and adding the water are all expenses to take into account. Poolside Info will help you plan for a budget-friendly pool for your Waukesha area home.
Q: Does my pool need additional features?
Once your pool is installed and full of water, it's time to enjoy! Ask our staff about the various options available for improving your above ground pool. We have everything from heaters to games to ensure you get the most out of your home pool.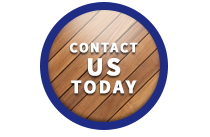 Adding an Above Ground Pool Deck to Your Wisconsin Home
Improve the Appearance of Your Pool and Yard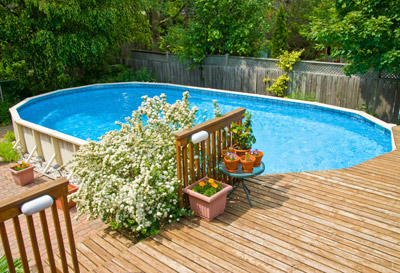 Above ground swimming pools are popular in Wisconsin for their affordability and practicality. Elevated, wraparound decks are a great way to enhance the aesthetic appeal of your pool while also making it easier to get in and out of the pool.
Easier Access for Family and Friends
Using a ladder to get in and out can be tricky for young kids, older family members, or those with limited mobility. Decks can be built with either a stairway or ramp to make pool access easier for the entire family. Many of these decks include gates to keep out kids and pets, making the pool area safer.
Some above ground pools with wrap around decks can benefit from an automatic cover installation for faster setup. Depending on what you want, a deck may adjoin with only one side of a pool or wrap all the way around. If the deck does not go all the way around, a second ladder can be added along the opposite side for entering and exiting the pool.
Enhancing Your Home
If you have an existing back patio or deck, creating a pathway between the two makes reaching your pool easier than ever. An elevated deck can be used even when the pool is closed. Place some chairs or towels down to catch some sun or set up an outdoor dining area for a relaxing meal. Prop up umbrellas to stay safe from the sun while supervising your kids from a high vantage point.
A deck will also provide convenient storage for pool supplies. Anything from toys to a pool skimmer can be tucked underneath the deck, freeing up garage and shed space. You no longer have to worry about where to put the inflatable tubes or cleaning chemicals.
Wraparound pool decks also add visual appeal to your yard. If you're really determined to hide the sides of your pool, use small shrubs and flower bushes for a more natural look. Decorative siding can also hide the rest of the pool walls from view.
Spas and Pool Services Provided Throughout Waukesha County
Whether you need to cool down on those hot summer days, or heat up on those frigid winter nights, Poolside pools & spa services have got you covered. We provide expert pool maintenance & repair for the residents of Waukesha County and the following areas:
Brookfield, Delafield, Muskego, Milwaukee, Mukwonago , New Berlin, Pewaukee, Dousman, Hartland, Oconomowoc , Waukesha, East Troy
We also sell spas & services for spas.
For more information about adding an above ground pool with an elevated deck to your home, contact Poolside in North Prairie today.