Swimming Pool Closings
How to close an above ground and inground pool
Closing a pool for winter isn't as simple as throwing a cover on it and calling it a day. You need to take a number of steps to ensure your expensive pool components aren't damaged and your pool surface doesn't turn into a science class experiment.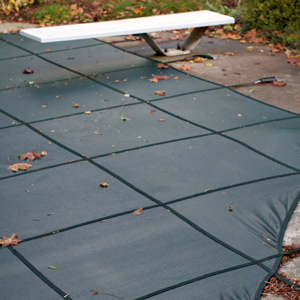 Poolside provides affordable above ground and inground swimming pool closings to ensure your pool is closed properly. For inground swimming pools, you will recieve a line blow service to guarantee that your pool will not have any freeze damage over the cold winter months.
Contact the Milwaukee pool experts to safely close your pool today!
If you want to tackle the project on your own, you will need the following pool supplies:
Air compressor or cyclone pool line blower
Algaecide
Hand skimmer
Strong chlorine solution
Swimming pool water chemical testing kit
Swimming pool cover
Pool Closing Cost
Closing your pool for the winter can cost an average of $100 to $350. If your pool was not properly closed before winter, you might find yourself looking at a larger price tag when spring comes. Depending on size, it takes an average of 2 hours to properly close a pool. Poolside swimming pool technicians ensure your pool is in full working shape for summer when you choose our pool closing service. Visit our services page for more pricing information
How to Winterize A Swimming Pool
Remove all miscellaneous pool accessories such as heaters, vacuums, ladders and handrails and store them away.
Skim the surface of the water and scoop out loose debris.Lower the water level of the pool 4"-6" below the lowest plumbing line—usually the water return line.
Balance the chemistry of the water. Ensure the pH is between 7.2 and 7.6, alkalinity is around 100 ppm and calcium hardness sits at approximately 200 ppm.
Shock the water with chlorine to kill bacteria. Choose a solution with at least 65% sodium hypochlorite or another substitute with similar potency.Add winterizing algaecide. Algae can form in winter months and discolor the surface of your pool.
Drain the pump, filters, heaters and chlorinating equipment. Any loose water left in these components freeze up over winter, potentially causing a lot of damage.
Blow out plumbing lines and seal them securely. You want the least amount of moisture as possible in your plumbing before the winter.
Cover your pool with a mesh cover or solid pool cover. Add a leaf net if your pool is surrounded by trees.
Affordable Pool Closing Service Milwaukee Trusts
If you have any questions about closing your pool for the winter, such as type and quantity of chlorine solution or algaecide, contact the swimming pool professionals at Poolside. We provide a full closing service and can return in the spring to open it up again for summer.