New Berlin Swimming Pool & Hot Tub Service, Sales & Maintenance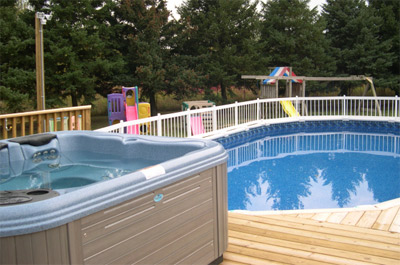 If you live in New Berlin and are considering a swimming pool or a hot tub for your home, consider Poolside first. Besides quality swimming pools and Bullfrog hot tubs, we also have everything you'll need to maintain your swimming pool or hot tub—pool cleaners, chemicals and even free water analysis to ensure the water chemistry is just right.
While pools are a great choice for summer fun with the family, a hot tub is a great choice for year-round relaxation—especially on cold winter nights. If you have problems with arthritis or fibromyalgia, or just feel stressed out, you'll benefit from the therapeutic value of soaking in a Bullfrog Spa with patented JetPak Therapy System.
Ideal scenario, of course, is a swimming pool for the warm weather months and a hot tub for the fall and winter. All you need is a little space off to the side of your pool deck. Visit our services page for more pricing information
Swimming Pool and Hot Tub Specialists Provide Regular Maintenance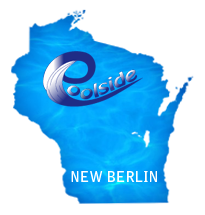 It's important to protect your investment in a pool or hot tub, and we can help you with becoming familiar with all the cleaning and maintenance procedures required. We also offer weekly and monthly maintenance services for homeowners in the New Berlin area. This is a great solution for busy homeowners who may not have the time or inclination to deal with the maintenance themselves. Our technicians will clean your swimming pool, test the water and add chemicals if necessary to ensure the water is perfect.
Poolside also offers complete pool opening and closing services. When summer ends, we prepare your pool to weather the storm of the coming winter months. Similarly, when the weather warms up again, we get your pool ready for summer fun—ensuring the water is clean and ready to enjoy.
Poolside Has All The Pool Supplies You Need
Our swimming pool specialists offer a vast selection of quality pool supplies, accessories and products to either supplement your pool area or help keep it in the best shape. We offer all of the following pool and hot tub products, among others:
Poolside is the best hot tub and swimming pool vendor in Waukesha County for all your above ground and in ground pool needs. Stop in at our North Prairie shop, or give us a call for more information.