Wisconsin Swimming Pool and Hot Tub Spa Showroom
Milwaukee Above Ground Swimming Pool Experts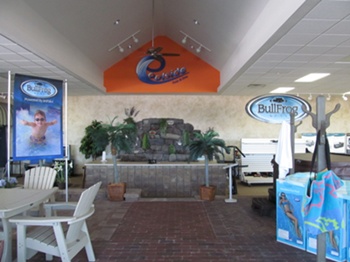 The friendly folks at Poolside Pool & Spa are Milwaukee's swimming pool experts, with the products and service you need to keep your swimming pool and spa running its best all summer, and stored properly when not in use over the winter. We carry the name brands you want, coupled with the service-driven Midwest work ethic you trust.
Visit our showroom at W309 S4845 Commercial Drive, North Prairie, WI 53153 to explore our full selection of swimming pools, Bullfrog Spas, and pool and hot tub products and accessories. Our knowledgeable staff will conduct a free water quality test for your indoor or outdoor spa to ensure proper chemical balance, making sure your spa water is safe and reducing costly maintenance down the line.
Test out each of the JetPak Therapy System interchangeable JetPaks for your Bullfrog Spa to find out which ones are the right ones for you. Bullfrog Spas are completely wood-free and require 90% less plumbing than typical hot tubs, meaning less downtime and a longer useful life for your new hot tub.
We provide accessories and chemical solutions necessary for keeping your pool or spa clean and safe all summer long. Our swimming pool supplies and accessories include covers, filters, filter sand, pool salt and chlorine systems.
Visit our services page for more pricing information
Pool Services, Accessories and Chemicals Available for Your Wisconsin Pool
In addition to our high-quality swimming pools and Bullfrog hot tubs, Poolside offers a wide variety of swimming pool accessories, chemicals and replacement parts for homes and properties throughout the state. We offer repair and installation services for pool liners, filters, and heaters, and we even offer a FREE water analysis for new pool owners who want to know the right balance of chemicals to use.
Whether you want to get a new pool liner or close your outdoor pool for the winter months, Poolside Pools & Spas is here to help. Give us a call today to learn how we can help you with your new pool or hot tub.
Poolside Pool & Spa Keeps the Pool and Hot Tub Fun Going All Year Long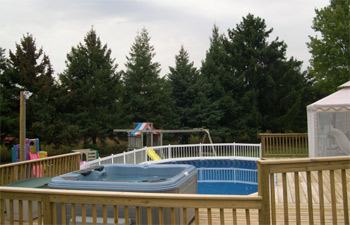 Extend the pool season by a few weeks in the spring and fall by adding a swimming pool heater, sold and serviced by Poolside Pool & Spa. We carry propane and natural gas heaters appropriate for any size above- or inground pool. Wisconsin winters will inevitably put an end to the pool season, and we have the cold season tarp and mesh covers and leaf nets you need to protect your pool through the winter and make opening next spring a snap.
And if you don't want to deal with the hassle of opening and closing your pool yourself, talk to us about our seasonal pool opening and closing services for pools of all types and sizes. Ask about our weekly and monthly maintenance services!
Spas and Pool Services Provided Throughout Waukesha County
Whether you need to cool down on those hot summer days, or heat up on those frigid winter nights, Poolside pools & spa services have got you covered. We provide expert pool maintenance & repair for the residents of Waukesha County and the following areas:
Brookfield, Delafield, Muskego, Milwaukee, Mukwonago , New Berlin, Pewaukee, Dousman, Hartland, Oconomowoc , Waukesha
Call or visit the Wisconsin swimming pool experts at Poolside for information on above ground and inground swimming pools, Bullfrog Spas and products and accessories