Swimming Pool & Hot Tub Services, Supplies & Sales for Oconomowoc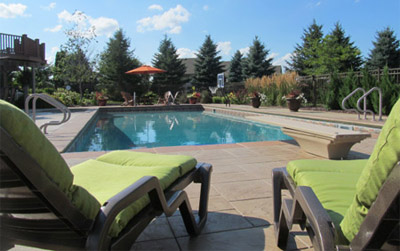 If you're looking to transform your backyard into a private retreat with the addition of a pool or hot tub, Poolside is ready to help. For over 30 years, Poolside has provided the Oconomowoc area with the very best pools and hot tubs. From custom in-ground pools to a full range of swimming pool products and hot tubs Poolside does it all.
As a leading builder of custom in-ground pools in Oconomowoc, Poolside has earned a reputation for superb customer service. We will work with you to create the pool of your dreams and to ensure many years of good times.
Nothing gives us greater satisfaction than seeing the joy on our customer's faces when their new pool is completed and ready for that first dip. Visit our services page for more pricing information
Swimming Pool and Hot Tub Specialists Provide Installation and Maintenance Services
In addition to pools, we also install hot tubs and perform routine swimming pool and hot tub maintenance and repairs. Besides offering free water analysis to help ensure you are on track with maintaining the water in your pool or hot tub, we also offer weekly and monthly maintenance programs for homeowners who don't have the time for cleaning and maintaining the water in their pool. And if there's ever a problem with your pool or hot tub, our experienced pool technicians will be there quickly to get the issue resolved.
Poolside also offers pool closing and pool opening services for homeowners throughout Oconomowoc. To ensure your pool safely weathers the harsh winter months, our crews perform a line blow to prevent the possibility of freeze damage to any components. We also treat the water and securely cover it with a protective cover to keep debris and animals out. Come summer, we do all the work to get your pool's water clean and safe for swimming again.
The Best Pool Supplies and Accessories in Waukesha County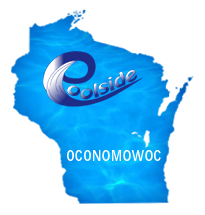 No other pool and hot tub vendor in the southeastern Wisconsin area offers you a wider array of pool supplies, accessories and products to spice up your indoor or outdoor pool area. We offer all of the following products at our one-stop-shop for all things pool and spa:
If you're looking for pool and hot tub supplies, accessories and luxury items, look no further than Poolside. We offer everything you need to make your pool area the best in your town!
Contact the swimming pool experts at Poolside for a free in-ground swimming pool quote.