Milwaukee Area Swimming Pool and Hot Tub Specialists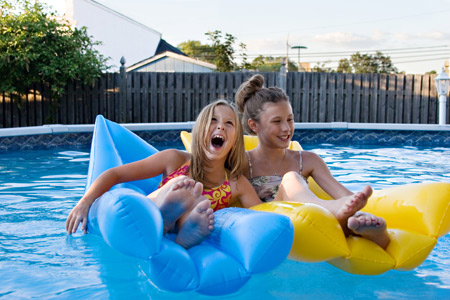 For quality swimming pool and hot tub installations, trust the experts at Poolside. For over 30 years, our family-run business has been helping Milwaukee area homeowners create the private backyard swimming pools of their dreams.
From custom inground pools to quality above ground pools and hot tubs, Poolside is Milwaukee's best choice for pool and hot tub installation, supplies and service. Our inground pool builders design to the specific size and shape of your property. Whether you want a round swimming pool or a square one, our pool dealers will accomadate.
A pool is a significant investment for any homeowner, and proper maintenance is essential to ensuring the water is safe. We offer our customers free water testing. Just bring in a sample of your pool or hot tub water and we will check it for proper ph, chlorine levels and the presence of any harmful microorganisms.
Wisconsin Pool and Spa Experts Perform Installation and Maintenance Services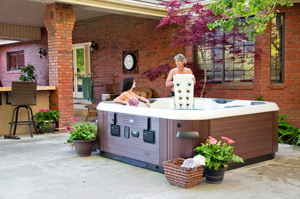 If you just don't have enough time to clean and maintain the water in your pool, consider our weekly or monthly maintenance program. Our experienced Milwaukee area swimming pool contractors will bring all the chemicals and equipment necessary to clean and maintain your pool (or hot tub), ensuring 100% of your time with your pool is spent enjoying it.
If there's ever a problem, such as leak or a tear in the liner, rest assured that Poolside will get it fixed promptly and professionally. And when it's time to close your pool up for the winter, our pool closing service will ensure your pool survives the harsh winter without damage. You get the best, and we make it last! We also sell and fix pool liners and pool pumps for above ground pools in Milwaukee.
As a prospective owner of a new pool or hot tub, you probably have more than a few questions regarding permits, construction, maintenance and—probably the biggest question—how much will it cost? Feel free to contact us, or come by our showroom to meet with us personally.
Pool Supplies and Accessories from Top Brands Make Your Pool or Hot Tub the Best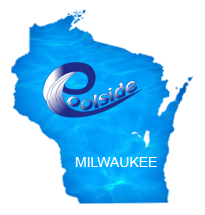 The pool and spa professionals at Poolside offer a wide selection of pool supplies, accessories and products to keep your pool in great shape. You can even personalize it with luxury items.
You know how unpredictable the weather in Milwaukee can be. One moment brilliant sunshine, twenty minutes later grey clouds and a cold wind. You're going to want a pool heater so you can stay in the pool until the clouds pass.
Our Milwaukee pool and spa professionals are your one-stop-shop for everything pool and spa!