Swimming Pool & Hot Tub Services in Hartland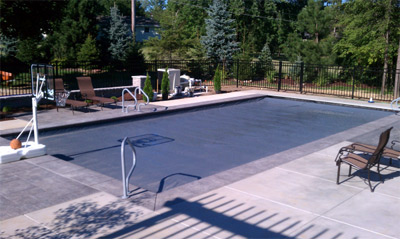 Get the Very Best Pool Services in Wisconsin from Poolside
Looking to add a splash of outdoor fun to your summer? Poolside has exactly what you need. In addition to a wide variety of inground and above ground pools, you'll also find the Hartland area's best selection of Bull Frog spas, the highest quality luxury hot tubs available.
Our Hartland crew builds custom inground pools in all shapes and sizes, making it possible to have a swimming pool perfectly suited for any back yard.
Working with Poolside is easy. One of our representatives will visit your home to survey your back yard and provide an initial design. After you've decided on the size and design of your pool, we will draw up final plans. From there, it usually takes about three weeks for inground pool installations to be completed.
After our experienced pool construction technicians have finished installing your pool, we will test your water to ensure it has the proper chemical balance and show you how to perform all the basic maintenance involved in keeping your pool clean. Come by our swimming pool store at any time to get a free water analysis or find any and all necessary pool supplies. We're always happy to help you become more comfortable with pool maintenance so you can feel 100% confident the water in your pool is perfectly safe for your family and friends. Visit our services page for more pricing information.
Hot Tub Sales in Hartland
Poolside is a premier hot tub store in Hartland offering great prices and hot tub sales on high-quality hot tubs. We believe everyone should have the opportunity to experience the relaxation and luxury of owning a hot tub without breaking the bank. Our extensive selection includes a wide range of hot tub models, sizes and features to suit every budget and preference. Whether you're looking for a compact hot tub for intimate gatherings or a spacious one to accommodate family and friends, we have the perfect option for you. We strive to provide competitive prices and sales without compromising on quality.
Get the Best Maintenance and Installation Services With Poolside
Poolside has completed swimming pool and hot tub installations all over the Hartland area. We are proud of the work we do, and we'll give you a beautiful new swimming pool on your Hartland property at the most affordable price. For a look at some of our pool and hot tub installations, visit our pool and hot tub gallery page.
In addition to installations, Poolside offers pool cleaning, repair services and maintenance plans. We also offer pool opening and closing services for every season. For the best swimming pool and hot tub services in the state of Wisconsin, look to Poolside Pools & Spas. Call us for a free quote on your pool or hot tub installation.
Contact our North Prairie inground swimming pool specialists to begin the design process of your new in ground pool or to request more information on our pool and spa services.