Pools and Spas for Wisconsin Residents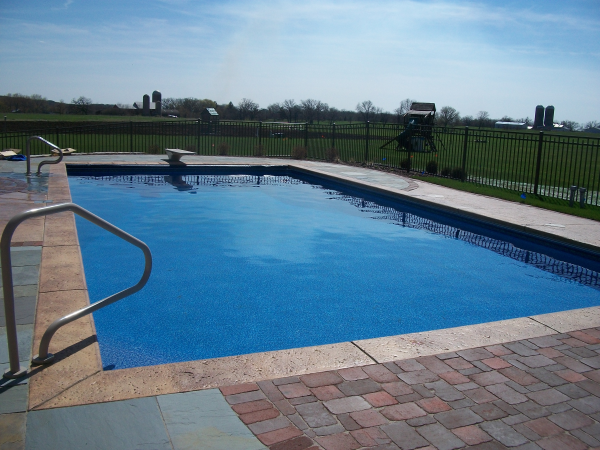 Poolside offers pool and spa installation to residents all over Southeastern Wisconsin. From installation to water testing to maintenance services, we do it all. Enjoy your summer with the perfect swimming pool for your property. We service residences all over the greater Milwaukee area.
Pool Services in the Milwaukee Area
Figuring out the best way to entertain your family during the warm Wisconsin summer months can be a challenge. You want to keep your kids outside the house and active. The best solution is to come to Poolside to design your perfect family swimming pool. We've built and installed above-ground and inground pools for properties all across Southeastern Wisconsin.
Above Ground Pool Installation in Wisconsin
When you don't have a lot of space in your yard for an inground pool, above ground pools make for the perfect solution. They are also usually more affordable. Your family will enjoy the same amount of fun for less. We offer oval or round shapes in different sizes you can choose from to best fit your budget. To make your new above ground pool more user-friendly, you can enhance it with a deck for easier access.
Inground Pools from North Prarie Expert Pool Designers
Inground pools are the perfect option for when you have a large backyard that can accommodate any pool size for maximum fun and relief from the sun. We'll send a Poolside representative to survey your property so we can offer you the perfect design options and features we have available. The possibilities are endless for what your future pool could look like, and we also make sure that you get your perfect swimming pool at an affordable price.
Pool Maintenance Services
Other than installing above and inground pools in your yard, we also make sure they maintain their integrity for years to come with our pool maintenance services. From heater repairs, pool filter repairs, and pump repairs to leak detection and water analysis, we help with it all. Get the most out of your swimming pool by contacting us today with any pool-related questions or concerns.
Wisconsin Spas You Can Use Year-Round
Poolside also offers top-of-the-line Bullfrog spas that are more energy-efficient, reliable, and leakproof than regular hot tubs. When you're getting ready to face the harsh Wisconsin winters, installing a bullfrog hot tub is exactly what you need. We carry various sizes in our store that will perfectly fit any backyard, deck, or patio. All Bullfrog Spas come with JetPak therapy system options so you can really relax after a long, stressful day.