Hot Tub & Swimming Pool Services for Muskego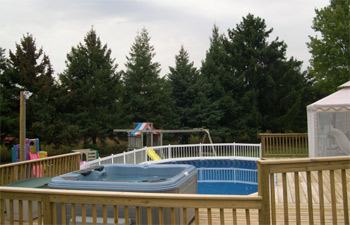 Poolside has been Muskego's choice for quality pool and hot tub installations for over 30 years—and for good reason. As a family-run business, we put customer service first. Always have, always will. From helping you design the pool of your dreams and guiding you through the permitting process to showing you how to balance the water chemistry in your pool, we go out of our way to ensure complete satisfaction with our work. We even offer free water testing for all our customers. Just bring in your water sample and we'll check it to ensure the chlorine levels and ph balance is right.
If you need weekly or monthly pool maintenance, you may be interested in learning more about our weekly and monthly maintenance plans. These are ideal for busy homeowners who may not have the time to clean and maintain the water chemistry of their pool. Our crew will come to your Muskego home with all the cleaning equipment and water treatment chemicals necessary to keep your water free of leaves, insects, and harmful microorganisms. We also offer expert hot tub repair services, too.
Visit our services page for more pricing information
Pool and Hot Tub Experts Provide Best Customer Service in Southeastern Wisconsin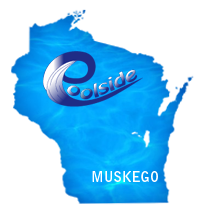 In the Muskego area, homeowners have a choice of contractors for building pools. The more you look into it, though, the more we think you'll see why so many Muskego homeowners choose Poolside. Sure, our extensive experience with pools and spas is what leads so many to our door, but it's the way we treat our customers that keeps so many with us.
We run a family owned business with a small town kind of service, meaning people are our priority. Our goal is to hear you out and meet your swimming pool and hot tub needs. When you work with the pool and tub experts at Poolside, you work with the best and friendliest in the industry.
Pool Supplies and Accessories for All Swimming Pool and Hot Tub Owners
Poolside provides a wide array of pool supplies and accessories for people looking to supplement or improve their pool area. We offer luxury items like massage chairs or pool heaters, and also provide staple items necessary to keep your pool or hot tub in great shape, like in ground pool liners, hot tub covers or pool filters.
No other swimming pool company in the Muskego area makes your pool or hot tub the very best like the professionals at Poolside. We are your one-stop-shop for everything you need to make your pool area the envy of the neighborhood!
Contact the Waukesha County swimming pool experts at Poolside for quality in-ground swimming pools, above ground swimming pools and hot tubs.