Waukesha Swimming Pool and Hot Tub Services, Sales and Products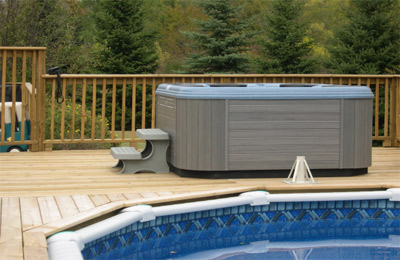 Poolside is here for All Your Pool or Hot Tub Needs
Poolside provides quality swimming pools and a variety of products and services to ensure you get the most out of your pool or hot tub. From getting a FREE water analysis of your pool's water to finding the best chemicals for keeping your water clean, Poolside has everything you need for a great summer season with your Waukesha home swimming pool.
If you're considering getting a pool or a Bullfrog hot tub installed on your Waukesha property, we can definitely help. Our inground swimming pools make a great addition to any yard and really bring the family together with fun, outdoor summertime activities. Besides providing a way for kids to practice swimming and water safety, so many great family memories are made around a pool. Our hot tubs, too, are a wonderful way to relax at the end of the day, and they're also a great way to enjoy the benefits of hydrotherapy year-round—right outside your back door. Visit our services page for more pricing information
Above Ground Pools Custom Designed for Your Waukesha Property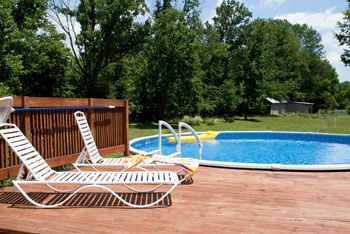 If you're looking for a brand new pool for your Waukesha property, and don't want to have to deal with the permanence of an inground pool, an above ground pool is a great alternative.
Homeowners throughout the Waukesha area trust Poolside Pools & Spas for all their above ground pool installation needs. From supplying high-quality pool supplies to providing opening & closing services, Poolside is southeast Wisconsin's #1 choice for swimming pool needs. Since 1981, we have provided the very best in pool supplies and pool building services for homes and commercial businesses in Wisconsin. Give Poolside a call today to get a quote for our services.
Poolside's Expert Services Ensure Your Pool Stays in Top Shape All Year Long
Poolside provides Waukesha homeowners with expert pool closing services. Our professional pool techs will handle everything necessary to close your pool for the season. This includes a line blow service for inground pools to prevent any freeze damage over the cold winter months, as well as treating the water for the coming winter and installing protective covers over the pool. When summer rolls around again, we can handle opening your pool, too.
We offer new, top-of-the-line swimming pools and hot tubs, and we also provide maintenance services to keep pools and spas in the best shape possible all year round. With Poolside, you always get the best services at the most affordable prices, guaranteed.
Hot Tub Sales in Waukesha
Poolside is a premier hot tub store in Waukesha offering great prices and hot tub sales on high-quality hot tubs. We believe everyone should have the opportunity to experience the relaxation and luxury of owning a hot tub without breaking the bank. Our extensive selection includes a wide range of hot tub models, sizes and features to suit every budget and preference. Whether you're looking for a compact hot tub for intimate gatherings or a spacious one to accommodate family and friends, we have the perfect option for you. We strive to provide competitive prices and sales without compromising on quality.
North Prairie Swimming Pool Company Carries a Variety of Pool Supplies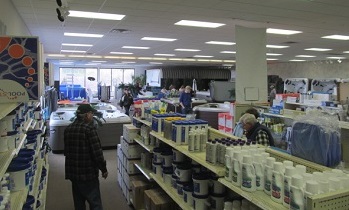 Poolside Pools & Spas provide a wide array of swimming pools, hot tubs and pool accessories, and our team of experts can help with whatever you need for your brand new swimming pool or spa. If you need an inground pool liner or any other swimming pool accessory, we can help.
Whether you're considering a new swimming pool or top-of-the-line hot tub, or you're in need of maintenance or repair work for your pool, Poolside is your one-stop shop for all your swimming pool and hot tub needs.
Contact our North Prairie swimming pool company for the best inground and above ground swimming pools and hot tub spa installations.