Lake Country Hot Tub and Spa Services
---
---
Hot Tub Repair & Installation in South Wisconsin
Your hot tub is the centerpiece of any seasonal party. Whether you're enjoying a romantic winter dip surrounded by snow, appreciating the end of a perfect summer day, or just unwinding after a busy day, a hot tub from Poolside guarantees a satisfying experience.
Poolside doesn't just install a great looking hot tub, we provide quality repair and reliable maintenance services to keep your hot tub running all year round. If you want to retire your hot tub for the winter, we'll winterize your hot tub with durable materials to keep your costs low.
Average cost of hot tub repair in Wisconsin is $260
Average cost of hot tub installation in Wisconsin is $1,500
The average lifespan of a hot tub in Wisconsin is 7-10 years
Over 75% of hot tubs in Wisconsin are used year-round
Over 50% of hot tub owners in Wisconsin have a spa cover to protect their investment
Free Water Testing
Keep your hot tub properly balanced and safe for the whole family to enjoy with Poolside free hot tub water testing. Every great investment needs some maintenance. Getting your hot tub water tested is like getting an oil change on your car, except easier, quicker, and free at Poolside.
Bring a sample of your hot tub water into our hot tub showroom in North Prairie, and we'll check it out.
Hot Tub Installation & Services
Take a look through our hot tub gallery to get some inspiration in deciding which of our quality brand hot tubs best fits your indoor or outdoor space. We've installed hot tubs just about anywhere, so don't hesitate to call us with any questions or concerns you might have.
Bullfrog brand Spas are the preferred hot tubs for many Waukesha County residents, and for good reason. Besides being completely customizable with interchangeable jets, the Bullfrog spa is built with less wood, fewer pipes, and more power to better your relaxation experience.
Once you've picked your dream hot tub or spa, the professional team will ship it to your house and install it to your specifications. Whether it's near the pool, underneath a canopy of trees, or way off in the back of the yard, we'll get it done.
Hot Tub Repairs from Expert Repairmen
Every mechanical investment needs maintenance to keep it running just how you like it: a hot tub is no different. Work with expert hot tub repairman! Poolside provides hot tub repair services like:
Hot tub heater replacement
Hot tub circuit board replacement
Finding and fixing hot tub leaks
Hot tub pump replacement and seal repairs

— In-store and on-site! If a customer's pump has a leaky seal, we can fix it. Customers can also purchase seals from Poolside if they want to try their hand at DIY.

Cartridge filter Restoration
Circuit boards and water are extremely volatile when put together: let our expert technicians who are trained in hot tub machinery diagnose the problem so you don't have to.
Hot Tub Maintenance Service Plans
Poolside spa technicians provide weekly and monthly hot tub maintenance services to fix problems as they arise and help prevent further issues. An outdoor hot tub in Wisconsin sees more than just sunny 80 degree days—keep yours running smooth with a quality maintenance check from our professionals.
Our complete care of your hot tub includes:
Mechanical maintenance
Water testing and pH level balancing
Section cleaning
And more!
Poolside's customer satisfaction is our guarantee.
Benefits of Hot Tub Cleaning Services
Enhanced Hygiene: Professional cleaning services thoroughly clean the tub, removing any dirt, debris, or potential contaminants, such as bacteria or algae.
Prolonged Equipment Life: Over time, mineral buildup, debris and chemical imbalances cause damage to various components. Cleaning services address such issues, ensuring that your equipment operates efficiently and lasts longer.
Improved Water Quality: A cleaning service will balance the water chemistry, adjust sanitizer levels, and treat any cloudiness or discoloration. This leads to crystal-clear, inviting water that is safe to use.
Energy Efficiency: By removing debris and ensuring proper circulation, the heating system can work effectively, minimizing energy consumption and reducing your utility costs.
Time and Convenience: Cleaning a hot tub can be a time-consuming and labor-intensive task. By hiring a professional cleaning service, you can save time and effort.
Expert Advice: Our reputable hot tub cleaning services provide valuable advice and guidance on how to maintain your hot tub between cleanings. We can recommend proper water care routines, advise on chemical usage and provide tips to maximize the lifespan of your hot tub.
Winterize Your Hot Tub with Poolside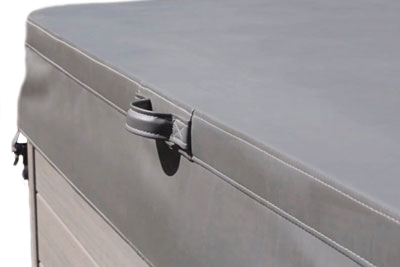 Wisconsin weather is often unpredictable, so protect your investment this winter with a custom spa cover from Poolside. Our trained technicians are skilled in ensuring a perfect fit for any brand of hot tub. In addition, we offer an extensive measuring sheet to ensure a snug and secure cover. Not only will a proper cover protect your hot tub from unwanted debris and clogged tubes, but it will also keep young children out of harm's way. Invest in a custom spa cover from Poolside to keep your hot tub in great condition all year round.

Milwaukee Spa Dealers Help Keep Your Hot Tub Looking Brand New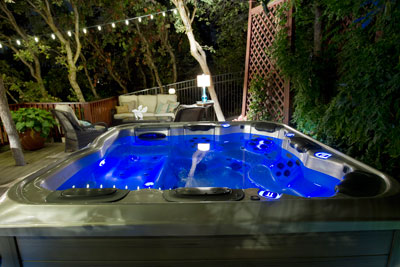 Poolside's staff in North Prairie, WI has years of experiencing servicing hot tubs in the greater Waukesha area. When you need your hot tub installed, repaired or maintained, we are only a phone call away.
Don't forget about our services for above ground pools, inground pools & other pool services.
Contact the pool and spa specialists at Poolside today for more information on our maintenance services.
Poolside services areas across Wisconsin, in communities like: Waukesha, New Berlin, Brookfield, Muskego, Oconomowoc, Milwaukee, Delafield, Mukwonago, Pewaukee, Hartland, Dousman and beyond.