Southeast, Wisconsin Swimming Pool Heat Pump Installation
Get the most out of your pool and enjoy your pool earlier and later in the season by installing a heat pump! We offer a wide range of durable and energy-efficient heat pumps for Lake Country swimming pools, and we'll help you select the ideal high-quality heat pump for your unique pool.
Heat Pump Installation Services from Poolside
Dreaming of keeping your Southeast WI pool at the perfect temperature? Make a comfortable and inviting pool a reality with Poolside's pool heat pump installation services. Whether you have a gas, electric or solar pool heater, we have the knowledge and expertise to help you select the right pool heat pump for your needs and keep your pool heater working in optimal condition. If you already have a heat pump, we'll assess the size and location of your pool's heat pump along with your pool usage patterns to make sure your pool heater is meeting your needs.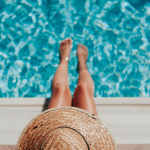 Pool Heat Pump Installation for Southeast Wisconsin Homes
When you call the technicians at Poolside, we'll take care of electrical connections, plumbing, and all other components necessary for an efficient heat pump installation. We pay meticulous attention to detail to ensure your heat pump operates flawlessly and integrates seamlessly with your pool's existing infrastructure.
Pool Heat Pump Maintenance Services
Even with the best heat pumps, minerals and debris accumulate over time and reduce your heat pump's efficiency. Regular heat pump maintenance is essential to keep your pool's heat pump running in ideal condition.
Our technicians use industry-leading techniques and equipment to remove deposits and restore optimal heat transfer, ensuring your pool remains perfectly pleasant. We provide regular comprehensive testing and calibration to keep your pool's heat pump running at its full potential and take the time to teach you how to operate and maintain your pool's heating system so you can make the most of its features while extending its lifespan.
Keep your pool heater functioning at its best with regular inspections, cleaning and calibration from Poolside's pool heat pump maintenance team to maximize your heat pump's energy efficiency and minimize your operation costs.
Pool Heat Pump Repair for Lake Country and Beyond
Poolside provides troubleshooting and repair services for all pool heat pump issues. Our team has the expertise to diagnose and resolve common problems, such as refrigerant leaks, malfunctioning thermostats or compressor issues. We use genuine replacement parts to ensure the highest-quality repairs and get your heat pump up and running in no time.
We provide pool maintenance and repair services for residents all over Lake Country including:
Brookfield, Delafield, Muskego, Milwaukee, Mukwonago, New Berlin, Pewaukee, Dousman, Hartland, Oconomowoc, Waukesha
Contact our pool experts today for more information on our liner replacements or to schedule an appointment.