Poolside's North Prairie Showroom Service Counter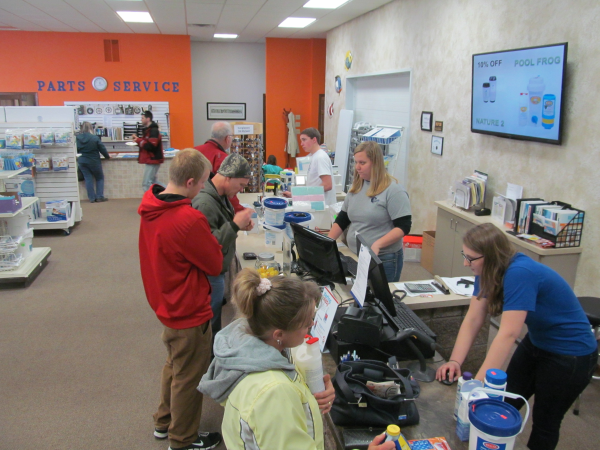 Wisconsin's Best Pool Services and Supplies
Hot tubs, in-ground swimming pools and above-ground pools all need regular maintenance and care to provide years of aquatic fun. Choosing a pool supply and service provider is an important part of keeping your pool up and running. Poolside, with its massive indoor showroom and friendly, knowledgeable staff, is Wisconsin's best pool service provider. Unparalleled customer service, free water tests and an enormous selection of pool supplies (including chlorine, shock and other chemicals) makes the choice of your pool supplies dealer simple. Come to Poolside's North Prairie showroom, where our staff is always ready and able to help you with all of your swimming pool and hot tub needs.
Maintenance and Repair for Wisconsin Hot Tubs and Pools
If you need to replace the liner on your in-ground swimming pool or are having trouble keeping up with hot tub maintenance, Poolside can help. Besides selling top-of-the-line pool supplies and chemicals in our showroom, we also provide full-service repairs and maintenance for in-ground pools, hot tubs and above-ground swimming pools. Whether it's chemicals and supplies you need or a complete maintenance package, Poolside is the one stop shop for all your pool needs.
Back To Gallery