Poolside North Prairie Showroom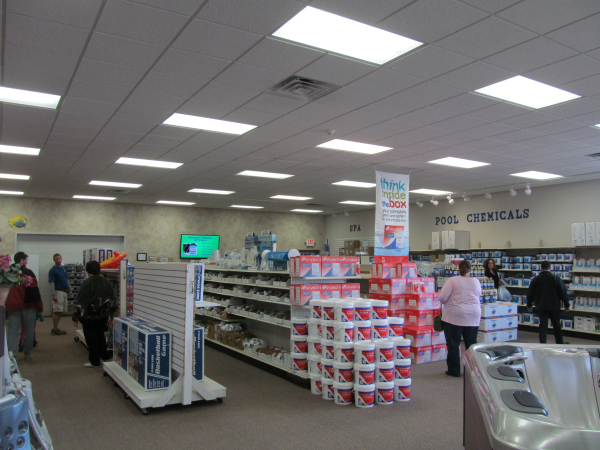 Wisconsin's Best Indoor Pool Showroom
Big box stores may have a large selection of pool chemicals, but their employees lack the knowledge necessary to offer specific advice for your pool or hot tub needs. Smaller, niche stores often have to order the supplies you need, preventing you from using your pool for days or weeks. Poolside's massive indoor showroom is fully stocked with hot tubs, pool chemicals, and supplies. All ready for purchase. Customers can even try out a hot tub with a wet test. Our neighborly staff is always on hand to answer questions and will help you pick the right swimming pool supplies for your specific situation. There is no other pool store in Wisconsin offering the same level of service, expertise and variety of pool supplies as Poolside. Poolside really is the end-all-be-all one-stop-shop for all of your pool needs.
Hot Tub Supplies and Installation
Poolside is the best place to buy a hot tub. Not only do we offer in-store wet tests, Poolside will install, maintain and, when necessary, repair your hot tub. Our premier line of Bull Frog hot tubs feature an innovative jet pack design, allowing you to customize your hot tub for maximum enjoyment. You can try out various jet pack arrangements right in our store, so you'll know exactly what configuration you want before buying anything. Poolside is also your source for hot tub covers, chemicals and supplies, all sold by our friendly staff. Buy your hot tub from Poolside and you can count on expert installation, great maintenance and superior customer service.
Back To Gallery