Hot Tubs For Sale Milwaukee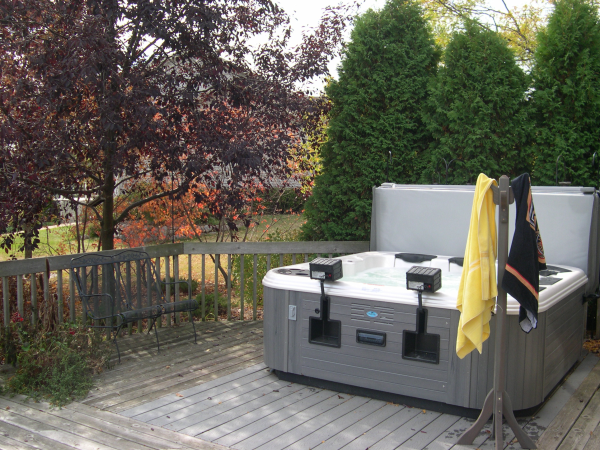 Milwaukee Hot Tub Brings Life to Family Fun Time
The best Milwaukee hot tubs were purchased from and installed by the experts at Poolside. In this picture you can see our superbly designed Bullfrog Spa. It has speakers built into the side of the tub which can be pulled out and set on top of the tub walls for the best listening capabilities. Our A-Series hot tub comes with more than speakers though. The A Series' standard features include a Cascadia water feature, premiere comfort fit pillows, premium A900 control panel with color display, and more. Your drinks will be lit with back lit cup holders and you will enjoy overall perfect lighting with LED mood lighting and LED landscape lighting. Our Bullfrog hot tubs are the perfect place to relax with family and friends, or you can find some peace and quiet alone. You can choose your favorite massage pattern or the JetPak perfectly suited to relieve a sore back or neck with this hot tub's interchangeable JetPak capabilities.
Check out all of our Milwaukee hot tub maintenance and repair services to ensure your new A-Series hot tub stays in top condition all year round.
Contact our Milwaukee hot tub specialists for more information on our Bullfrog Spas and pool services.
Back To Gallery