New Berlin Hot Tub Installation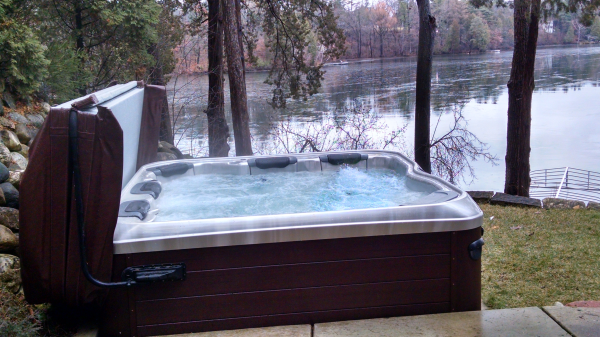 New Berlin Outdoor Hot Tub Installation
The Poolside professionals helped this family pick out and install the perfect hot tub for relaxing on the lake. Our Waukesha hot tub store offers the best luxury hot tubs available. From 100% wood free Bullfrog Spas to all the necessary hot tub chemicals and accessories required to keep your hot tub running at optimal condition year round, find it all at Poolside. Our hot tubs even feature interchangeable jets for customized massage relaxation. There are 16 different JetPaks you can choose from, including Neck Blaster, Spinal Health, Wellness and Rainshower.
Our hot tubs are energy efficient, available in a wide selection of colors, styles and sizes. A hot tub is an excellent addition to any home, turning your backyard or home into a relaxing personal spa. Unwind after a long stressful day and relax your muscles with the powerful, soothing JetPak hydro jets, perfectly customized to your relaxation needs.
Begin building your backyard oasis with help from our Waukesha hot tub installation professionals today. And to ensure your new hot tub stays in top condition all year round, we have hot tub technicians on staff to offer maintenance services at affordable rates.
Back To Gallery