Free Swimming Pool and Spa Water Analysis Testing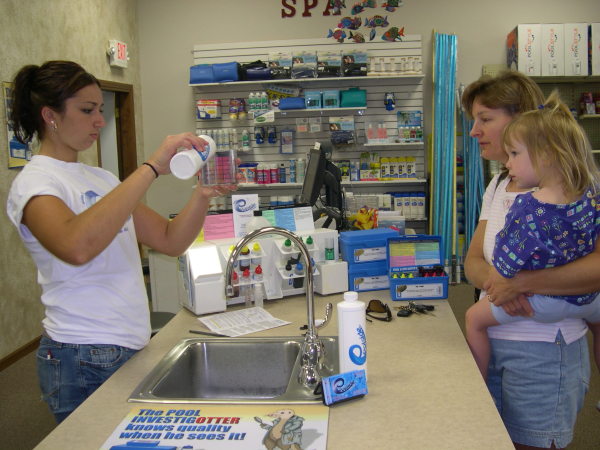 Free Pool and Hot Tub Water Testing by Knowledgeable Staff
Keeping your in-ground swimming pool and hot tub both clean and safe involves maintaining your water quality. If you are a pool owner, you know having the best swimming experience requires clean water. You also know having clean water takes both an understanding of pool chemicals and water needs. It may seem odd, but your swimming pool is essentially a giant balancing act. You add chlorine, shock and other chemicals to keep algae and bacteria in check. Adding too many chemicals can harm you, while adding too few will turn your above ground pool into a green cesspool. Because we want our customers to swim and play in the best water, we offer free pool water testing services provided at our North Prairie indoor showroom. Simply bring in a water sample from your swimming pool or hot tub and our knowledgeable, friendly staff will analyze the water, and help you understand the steps required to get the clean, swimmable water your family needs. Trust Poolside to give you the accurate, dependable water testing results necessary to keep your pool or hot tub enjoyable all summer long.
Pool Supplies for Sale in Poolside's North Prairie Showroom
Once your pool water has been tested, our staff will help you choose the best course of action to correct any chemical imbalances your pool is currently suffering, or we will help you maintain the high-quality water you already have. Doing so may involve buying the right chemicals, Poolside's indoor showroom has all the pool supplies you'll need, including chlorine, shock and algaecides. Having the supplies you need in a convenient location means you won't have to wait a day longer than necessary to get the right pool supplies, no matter what the results of your free water test is. Come to Poolside, your one stop pool water testing and supply store!
Contact our North Prairie swimming pool experts for more information about our free hot tub and swimming pool water testing service.
Back To Gallery