Bullfrog Hot Tub in Waukesha County, Wisconsin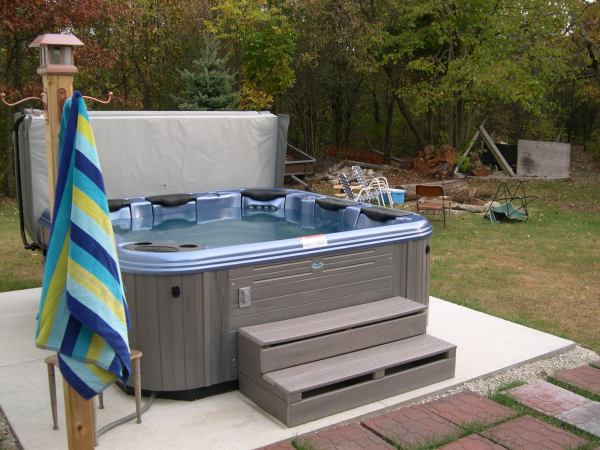 Hot Tub Provides Some Wonderful Relaxation in Waukesha County
With a gorgeous Bullfrog hot tub in the backyard, you might not be spending so many nights around the campfire! This fabulous installation lets you enjoy the patented JetPak Therapy System from Poolside. Just like how you customized the backyard, you can customize your luxury hot tub with interchangeable JetPaks to provide the precise spa experience you want or need. You can also move the JetPaks so you don't have to sit in the same place, staring at the same things. You have complete flexibility to keep your Bullfrog Spa just like you want it.
A Bullfrog Hot Tub is as easy to maintain as it is to use. Its wood-free design will last for years with peak performance. The design is state-of-the-art both from the standpoint of beauty as well as functionality. The unit is superbly energy-efficient, reducing your utility bills. The Eagle hot tub experts from Poolside will help you with instruction on how to care for your hot tub. They will also provide expert, affordable service or repairs whenever needed.
Have questions about installation and repairs? You can check out our hot tub maintenance services to help keep your Bullfrog hot tub just like when it was brand new!
Contact the Eagle hot tub experts right away to learn all about our big selection of hot tubs -- all at competitive prices – from Poolside Pools & Spas.
Back To Gallery