How to Winterize Your Hot Tub
The Only Step-By-Step Guide You Need
As the colder Wisconsin months approach, it's crucial to prepare your hot tub for winter. Properly winterizing your hot tub not only ensures its longevity but also saves it from potential damage caused by freezing temperatures. We'll walk you through the process of winterizing your hot tub to keep it in top condition for the upcoming winter season. If you want the pros to handle it, we offer hot tub winterizing services in Southeast WI!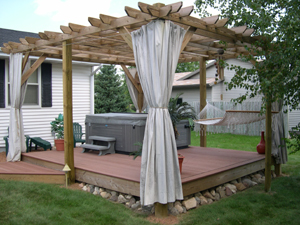 1. Why Winterize Your Hot Tub
Before we delve into the step-by-step process, let's first understand why winterizing your hot tub is essential. Firstly, it helps prevent freezing damage. When water freezes within your hot tub's plumbing, it can lead to extensive and costly damage. Winterizing, however, acts as a protective shield against this potential harm.

Secondly, it contributes to energy efficiency. Properly winterizing your hot tub can result in significant energy cost savings during the colder months, ensuring your enjoyment without an increased energy bill. Lastly, it helps extend the lifespan of your hot tub. Consistent winter maintenance ensures that your hot tub remains in great condition, guaranteeing years of relaxation and rejuvenation ahead.
2. Supplies You'll Need
Gather the following supplies to successfully winterize your hot tub:
Submersible pump
Spa vacuum or shop vacuum
Filter cleaner
A soft cloth or sponge
A wrench
Compressed air or a wet/dry vacuum
Spa cover and cover clips or straps
Spa cover conditioner
Pipe insulation
3. Drain and Clean Your Hot Tub
Start by draining the water from your hot tub. Turn off the power to your hot tub. Use the submersible pump to remove the water. Make sure to drain it away from the spa to avoid re-filling due to groundwater. Once drained, clean the shell with a spa vacuum or shop vacuum. Be thorough in removing all debris. Clean the filter with a filter cleaner, ensuring it's completely dry before storage. Use a soft cloth or sponge to clean the spa's interior, including the seats, jets and shell.
4. Remove and Store Accessories
Remove any accessories and store them in a safe place. This includes the headrests, pillows and any removable parts. Clean and store these items indoors, away from the elements.

5. Protect Your Hot Tub's Plumbing
Open the equipment access panel and disconnect the heater and circulator. Use compressed air or a wet/dry vacuum to blow any remaining water out of the plumbing lines. Lubricate o-rings, gaskets and threads with a silicone-based lubricant to prevent them from drying out and cracking.

6. Cover Your Hot Tub
A high-quality spa cover is crucial for winterizing your hot tub. Secure the spa cover in place using cover clips or straps. Apply a spa cover conditioner to protect it from the harsh winter elements. Check for any gaps or loose areas in the cover. Tighten if necessary to prevent heat loss.

7. Regular Maintenance During Winter
Your hot tub still needs some care during the winter. It's important to regularly remove snow and ice from the cover to prevent damage. Check the water level and add water as needed to keep the cover heavy and in place. Inspect the cover clips/straps to ensure they remain secure.

8. Enjoy a Worry-Free Winter
By following this step-by-step guide, you can ensure that your hot tub remains in great condition throughout the winter. Properly winterizing your hot tub will not only protect your investment but also make sure it's ready for your enjoyment when the warmer weather returns. Don't let the cold weather spoil your hot tub. Take the time to winterize it properly, and you'll be rewarded with a trouble-free, relaxing winter spa experience. Remember, a little effort now will save you a lot of hassle and expenses down the road.


Sound Like Work? Leave it to the Pros!
At Poolside Pools and Spa, we offer a comprehensive winterizing service for hot tubs to assist you in protecting your hot tub during the colder months. Our experienced professionals are well-equipped to handle the entire process, from draining and cleaning to insulating and covering your hot tub. We ensure every step is executed with precision, safeguarding your investment and ensuring optimal performance come spring. We'll make winterizing your hot tub a hassle-free and worry-free experience so you can enjoy a stress-free winter season.
For any questions or assistance with winterizing your hot tub, don't hesitate to contact us at Poolside Pools and Spa. We offer hot tub winterizing services in North Prairie, Mukwonago, Delafield, New Berlin, Hartland, Muskego, Wales, Waukesha, Pewaukee and the surrounding areas.