Inground Swimming Pools in Wisconsin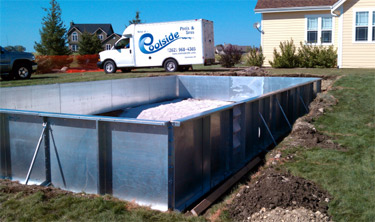 Waukesha Inground Ground Swimming Pool
Design & Installation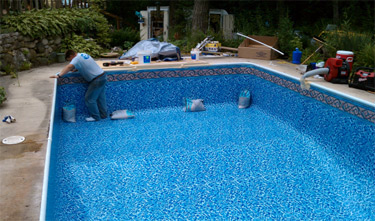 Hartland Inground Swimming Pool Liner Replacement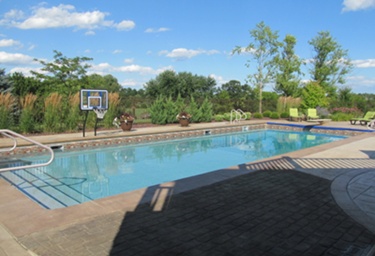 Delafield Inground Swimming Pool Installation
Wisconsin Inground Swimming Pool Construction
Inground swimming pools are the ultimate accessory for your home. Whether you want an outdoor swimming pool for spring and summer entertainment or an indoor swimming pool for year-round aquatic fun, Poolside is your best choice for quality inground pool installations. Our friendly, expert staff brings years of experience and a passion for customer service to every installation.
To begin the inground process, a Poolside representative will visit your home to discuss the possible options for your pool. We will survey your property and help you design the perfect pool for your backyard. From there, we sit down with you and discuss different design options and features available. An almost unlimited range of custom designs are possible. Once we have an idea of what you are looking for, we will draw up a plan and a contract and get your dreams of an inground pool put into motion.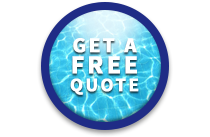 Before construction can commence, certain permits and authorizations need to be obtained. These regulations differ depending on where you live. We will help guide you through this process by outlining the permits you need and letting you know how to get them. Once the permits are received, work can begin on your new pool.
Watching the construction of a pool is always exciting. You'll see your new pool begin to take shape and grow closer to completion each day. Typical installations take about three weeks, as we refuse to provide anything but the highest level of craftsmanship and quality to our customers. All steps of the process, from excavation to pouring the concrete to adding finish design elements are completed by experienced pool construction technicians.
After the liner is set and the water is delivered, we will test your pool water and advise you on the pool chemicals youll need make your pool safe and ready for swimming. Our knowledgeable pool technicians will educate you on proper pool maintenance practices and inform you of all the professional Wisconsin swimming pool services we provide.
Professional Inground Swimming Pool Opening/Closing Services
Let Us Save You The Time And Hassle!
Our pool professionals can open your pool for you at the start of the season and close it in the fall. It really saves you a lot of hassle, and you can rest easy knowing our pool experts are on the job getting everything sorted out for you.
2018 In-Ground Pool Openings:
Package 1 – Complete In-ground Pool Opening $399.00 Includes: Cover is brushed, removed and folded. Winter plugs are removed and necessary fittings are installed. Equipment is primed and left running. Handrails and ladders are installed. Heater (if any) is test fired and shut back off. Chemicals are added.
Package 2 – Early Bird Discount $349.00 Includes: Same as PACKAGE 1, but must occur in either Week 1 OR Week 2 above. (Chemicals are FREE)
Download Above-Ground Swimming Pool Opening/Closing Form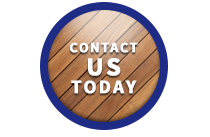 Questions to Ask When Buying an Inground Swimming Pool
Before buying an inground swimming pool, ask yourself the following questions to figure out the best pool for your home.
Q: How big should my swimming pool be?
If you want an Olympic-sized swimming pool, you'll need an Olympic-sized yard. Unfortunately, space can limit your options when shopping for an inground pool. Adding a patio area further limits the space. The team at Poolside will help you determine the appropriate size pool and patio for your yard.
Q: Where do I want my swimming pool?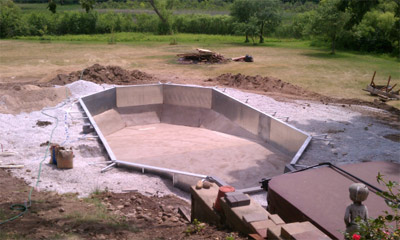 If you have a large property, there may be many different spots appropriate for adding a pool. However, while having a private pool at the very back of your property might be tempting, remember all drainage systems, cables and pipes will have to travel farther, too. You might even need to construct a shed to house your equipment. Keeping your pool closer to your house means you won't have to go so far when performing maintenance or when closing the pool for the night.
If you're not sure where your pool should go, let Poolside's experts take a look. We will determine the ideal spot by taking into account the layout of your yard and home. If you add a pool deck or patio, we take natural landscaping features into account to preserve the appearance of your property as best as possible.
Q: Should my pool have a shallow and deep end?
Pools with a shallow and deep end will require careful landscaping to achieve the necessary slope. Many of our customers opt for a pool with an even bottom. A deep end is only recommended if your pool will be used by experienced swimmers or for use with a slide or diving board.
Q: What shape should my pool be?
A rectangular pool is always better for swimming laps, while a rounded pool is great for pool parties and is often preferred for the aesthetic qualities it adds to a yard. Both shapes can be made in a variety of sizes to fit best into your yard.
Q: How often do I need to use my pool?
The amount of time you plan to spend in your pool will affect how much maintenance and treatment is needed. The more you use it, the more you will need to monitor the water quality and treat it. Just because a pool isn't used for a couple weeks, though, doesn't mean you don't have to monitor the water. If you're not interested in dealing with the maintenance aspects, that's ok. Poolside offers pool maintenance programs so all you have to do is jump in and enjoy your pool.
Q: Who will use my pool?
Depending on who will be using your pool, there are many extras worth considering to make your pool more enjoyable. Waterslides are great fun for kids, and a water basketball hoop let's grown ups get in on the fun, too. Younger kids and older folks will feel safer with steps and leading into the shallow end. You can even have a fountain system installed to add some flair.
Q: What is my pool budget?
It's a good idea to establish a budget before starting your pool project. While many families are finanically prepared for the initial installation, they neglect to budget for annual maintenance and closing costs. Pumps and heaters will also raise the price. Fortunately, Poolside is here to help you factor in all those unforeseen costs so you can prepare a comprehensive budget.
If you're buying a pool for family use and don't plan on using it much when your children have grown up or moved out, an above ground pool is a cost effective alternative worth considering.
Q: Who will perform maintenance?
Once your pool is installed and full of water, it will need routine maintenance.The water has to be chemically balanced and clean before anyone should go swimming. Leaves, twigs, and algae will all need to be skimmed away, and the pool liner will need to be vacuumed. The pool will also need to be prepared for winter, and come summer it will need to be prepped for use again. Pumps and heaters will also require occasional maintenance.
If you're not inclined to handle the maintenance of your pool, don't worry. Poolside's experts provide everything from free water testing at our North Prairie showroom to liner replacement and pump repair. Feel free to enjoy your pool while we handle weekly cleanings and other maintenance issues. We'll even close your pool for the winter season so everything is ready for spring and summer.
Contact the Wisconsin swimming pool experts at Poolside for more information and cost estimates on building an inground pool.