Delafield Swimming Pool and Hot Tub Sale and Service Experts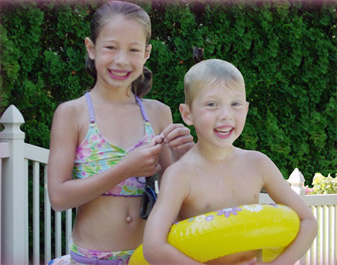 The perfect summer getaway? It's not in Cabo San Lucas or the North Woods, or any other hot vacation spot. No, it's right in your backyard in Delafield. At least it is when you have a pool or hot tub at the ready. With Poolside, it's easier and more affordable than you might think. And unlike vacation trips, a pool will provide a lifetime of family fun and memories.
For quality swimming pool and hot tub installations and services in Delafield, count on Poolside. In addition to custom in-ground pools as simple or as elaborate as you can imagine, we also offer a range of more affordably priced above ground swimming pools in either oval or round shapes. With several sizes available, there's sure to be one to fit your backyard. Although we do not install above ground swimming pools, we can put you in contact with the best installer we know of.
Swimming Pool and Hot Tub Specialists Provide Maintenance and Free Water Testing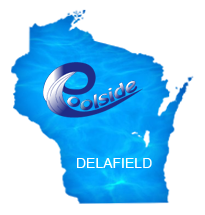 Whether your backyard retreat takes the form of an in-ground pool, an above ground pool or a hot tub, we encourage you to bring in a water sample so we can do a free water test to ensure your water is free of any harmful microorganisms. If it's not quite right, we'll give you detailed instruction on what to do in order to get it corrected.
Besides pools and hot tubs, Poolside also offers weekly or monthly maintenance plans, pool closing and opening services, and repair work on pools and spas. From simple things like keeping your pool clean and ready for you to enjoy to installing a new pool liner on an old pool, count on Poolside to keep you Delafield swimming pool in great shape for many years to come.
Pool Supplies from Top Brands Spice Up Your Delafield Home
The pool and spa experts at Poolside understand installing an in ground pool or hot tub in your home is a commitment. You want the best setup you can get. We offer a variety of pool supplies, accessories and products to maintain your pool and supplement it with luxury items that will turn some heads.
Our one-stop-shop for all things pool and spa features maintenance items such as pool or hot tub covers, cleaning agents and filters. We also have items for customers looking for a more luxurious experience, such as pool heaters or massage chairs.
Whatever you're looking for, we've got it at Poolside. We get you the best, and make the best last.
Contact the Delafield swimming pool experts today to choose your above ground pool and get it installed in time to enjoy a full summer of fun.