Wisconsin Hot Tub Spa Sales and Services
Milwaukee Hot Tub Spa Company Offers Exceptional Products
Bullfrog Spas Hot tub installations in Wisconsin are a great addition for any home. Spas can be utilized all year and make a great spot for friends and family to gather. The advantages of owning a spa go beyond recreational usage. The therapeutic benefits of Bullfrog Spas are unlimited. Hydro jets provide relaxing massages for sore, stiff and achy muscles.
Poolside is the leading Bullfrog Spa dealer of Southeastern Wisconsin. Our hot tubs can be custom designed to your needs with state of the art jets, utilizing Bullfrog's patented JetPak Therapy System. Your jets are 100% customizable to consumer needs. Each Pak fits in any seat, so you don't
have to choose one favorite spot to sit! Poolside offers customers free "wet testing" to try out a new JetPak in store before you buy. Once you've decided on the set up of your tub, installation is the next step.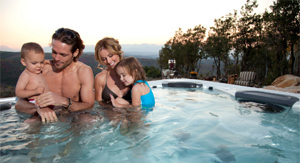 After installation, filling up the tub is as simple as turning on the garden hose. Once full, it's on to balancing the chemicals. Our water chemistry experts (any Poolside employee) offer FREE in-store water testing for you while you wait (typically 3-7 minutes depending on the diagnosis). We then calculate out the chemicals needed, educate you on how to properly add them, and send customers on their way feeling confident in their spa care abilities.
Best Hot Tub Repair and Spa Maintenance Services in Wisconsin
Hot Tub Services Poolside Offers:

Treat yourself. Not nearly enough people reward themselves for their hard work and it is Poolside's responsibility to help bring relaxation to your home. Poolside couples years of experience with our mission to make our community's homes as enjoyable as possible with the best Wisconsin spas.
There is only one thing worse than not having a spa and that is having a dirty one. We urge all of our customers to understand with great relaxation comes great responsibility. If you do not maintain your hot tub, you risk expensive replacement costs and avoidable repairs. Poolside can shoulder some of the responsibility by stopping by your home every month to keep it running smoothing and most importantly, clean and safe to use. If you use your spa regularly, we will even make weekly or Bi-Weekly spa maintenance visits to guarantee your relaxation time.
Contact the Wisconsin swimming pool experts to learn about our variety of hot tubs at the best value