Wisconsin Hot Tub Spa Sales and Services
Milwaukee Hot Tub Spa Company Offers Exceptional Products
If you're looking for the best deals on high-quality hot tubs, look no further. Bullfrog Hot Tubs are the award-winning spa brand Wisconsin loves — and so will you. Bullfrog Hot Tubs are 100% customizable, fit within any budget and complement every lifestyle.
Hot tubs from Poolside Pools & Spas can be used year-round, providing unlimited entertainment and relaxation for the whole family.
Poolside is the leading pool and hot tub dealer of Southeastern Wisconsin. Our hot tubs can be custom-designed to your needs with state of the art jets, utilizing Bullfrog's patented JetPak Therapy System. Your jets are 100% customizable to consumer needs. Each Pak fits in any seat, so you don't have to choose one favorite spot to sit! Poolside offers customers free "wet testing" to try out a new JetPak in store before you buy. Once you've decided on the set up of your tub, installation is the next step.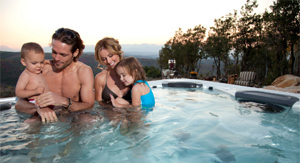 After installation, filling up the tub is as simple as turning on the garden hose. Once full, it's on to balancing the chemicals. Our water chemistry experts (any Poolside employee) offer FREE in-store water testing for you while you wait (typically 3-7 minutes depending on the diagnosis). We then calculate out the chemicals needed, educate you on how to properly add them, and send customers on their way feeling confident in their spa care abilities.
Wisconsin's #1 Spa & Hot Tub Dealer
Hot Tub Services Poolside Offers:

Treat yourself with Poolside.
Poolside couples years of experience with our mission to make our community's homes as enjoyable as possible with the best Wisconsin spas.
Contact the Wisconsin swimming pool experts to learn about our variety of hot tubs at the best value
Poolside services areas across Wisconsin, in communities like: Waukesha, New Berlin, Brookfield, Muskego, Oconomowoc, Milwaukee, Delafield, Mukwonago, Pewaukee, Hartland, Dousmanand beyond