Brookfield Swimming Pool and Hot Tub Service, Installation and Repair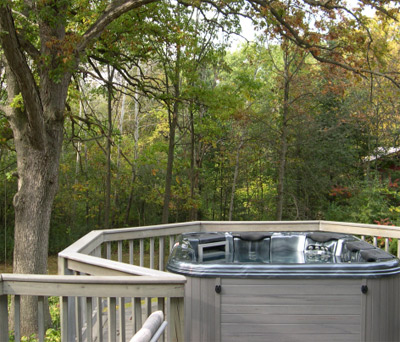 Have you been dreaming of a pool or hot tub for your Brookfield home? Let Poolside help. We are a family-run business with many years of experience building custom in-ground and indoor pools, as well as above ground pools and hot tubs. With Poolside, you can count on friendly, knowledgeable customer service both before and after the sale.
Perhaps you're concerned about the upkeep on a pool, or even on one of our Bullfrog Spas. Don't be. Our pool technicians will help you get a handle on proper pool maintenance practices and make sure you have the chemicals and cleaners to keep your pool or hot tub in great shape. Of course, you may also opt for one of the pool cleaning services we offer our customers. Besides weekly and monthly maintenance plans, we also offer complete repair services in case there is ever a problem. From locating and repairing a leak to diagnosing and correcting problems with the water filtration system, our Brookfield pool maintenance technicians can handle anything.
Swimming Pools and Hot Tubs Make Great Relaxing Family Memories
For families with young children, a backyard pool not only provides a fun and healthy outdoor activity, but also the opportunity to bond and create lifelong memories. Your children will also be able to swim like fish after just one summer with a pool in their yard. But don't overlook the possibility of a hot tub, especially if your kids are older or you don't have children at home. It's just hard to beat the soothing warmth of a hot tub after a hard day at work. And if you have problems with arthritis, you'll really come to appreciate your soaking sessions.
We help you to make these memories by providing you with only the best swimming pools and spas in the Brookfield area, and regularly perform maintenance to make sure they stay the best. You get the best, and we make the best last.
Pool Supplies and Accessories from Brookfield Swimming Pool Company Makes Your Pool Special
Our pool and hot tub professionals supply you with all sorts of different pool supplies and accessories. We offer everything from in ground pool liners to luxury massage chairs. Get into the summer spirit and add a ceramic grill to your pool area—nothing says Wisconsin summer fun like grilling some brats and burgers.
Whether your preference is for a pool or a spa, Poolside is ready to help make it happen. From helping you understand the ordinances for the city of Brookfield to working with you on the design of your pool and showing you how to maintain the chemistry of your pool's water, we are here to help every step of the way.