Hartland Swimming Pool and Hot Tub Store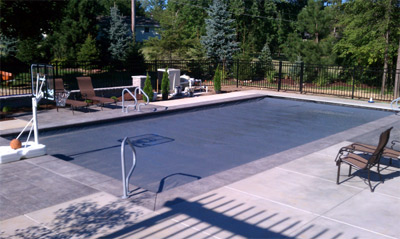 Looking to add a splash of fun to your Hartland summer? Poolside has the pools, the equipment and the services to make your summer easy and cool. Besides a great variety of in-ground and above-ground pools, you'll also find the area's best selection of Bull Frog spas, the highest quality luxury hot tub available available and a great way to beat the chill of winter.
Our Hartland crew builds custom in-ground pools in a wide range of shapes and sizes, making it possible to have a swimming pool perfectly suited for your back yard. A Poolside representative will visit your home to survey your back yard,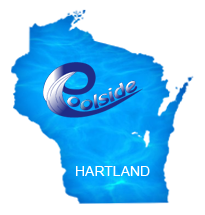 then work with you on the design of your new in- ground pool. After you've decided on the size and design of your pool, we will draw up final plans. From there, it usually takes about three weeks for in ground pool installations to be completed.
After our experienced pool construction technicians have finished installing your pool, we will test your water to ensure it has the proper chemical balance and show you how to perform all the basic maintenance involved in keeping your pool clean. You are also welcome to come by our store at any time to get a free water sample. We're always happy to help you become more comfortable with pool maintenance so you can feel 100% confident the water in your pool is perfectly safe for your family and friends.
Poolside has completed a number of swimming pool and hot tub installations around the Hartland area. We are proud of the work we do and appreciate your consideration. For a look at some of our pool and hot tub installations, be sure to check out our pool and hot tub gallery page. In addition to installations, we also offer pool repair services, pool maintenance plans and services for opening and closing pools each year. The best Hartland swimming pool and hot tub services? That's Poolside, no doubt.
Contact the Hartland in ground swimming pool specialists to begin the design process of your new in ground pool or for any of your swimming pool and hot tub repair needs.