Waukesha Swimming Pool and Hot Tub Services, Sales and Products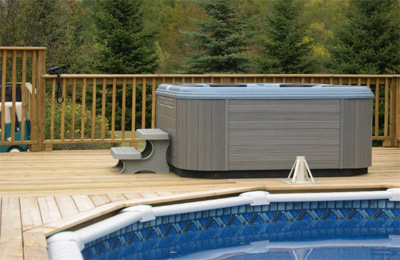 Poolside provides quality Waukesha swimming pools and a variety of products and services to ensure you get the most out of your pool or hot tub. From FREE water analysis of your pool's water to chemicals for keeping the water clean and robotic sweepers that remove debris, Poolside has everything you need for a great season with your pool.
If you're considering getting a pool or a hot tub, we can definitely help. Our quality swimming pools make a great addition to any yard and really bring the family together. Besides providing a way for kids to practice swimming and water safety, so many great family memories are made around a pool. Our hot tubs are not just a wonderful way to relax at the end of the day, they're also a great way to enjoy the benefits of hydrotherapy year-round—right outside your back door!
Poolside also provides Waukesha homeowners with pool closing services. Our Waukesha pool techs will handle everything necessary to close your pool for the season. This includes a line blow service for in-ground pools to prevent any freeze damage over the cold winter months as well as treating the water for the coming winter and installing protective covers over the pool. When summer rolls around again, we can handle opening your pool, too.
On top of offering you top-of-the-line new swimming pools and hot tubs, we also provide maintenance services to keep your pools and spas in the best shape possible. You get the best, and we make the best last.
Waukesha Swimming Pool Company Provides Variety of Pool Supplies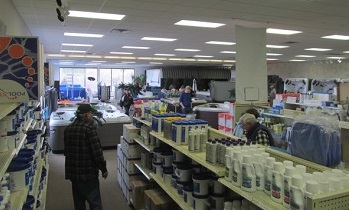 No other swimming pool and hot tub vendor in southeastern Wisconsin provides a wider array of quality pool supplies than the experts at Poolside. If you need an in ground pool liner or any other swimming pool supplies, we are just the place for you.
Whether you're in the market for a pool or hot tub, or in need of maintenance or repair work, Poolside is your one-stop shop for all your swimming pool and hot tub services needs in the Waukesha area and beyond.
Contact our Waukesha swimming pool company at Poolside for the best inground and above ground swimming pools and hot tub spa installations.